Good Day AV & IT professionals!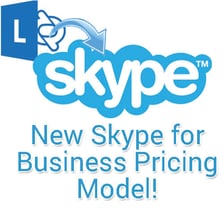 Skype has just announced a new pricing plan for its Skype for Business service! It's the kind of announcement where you have to stop and say "Wow? Is this going to be game changing? What will this mean for the online video conferencing industry?". Skype for Business is one of the most popular video conferencing tools for professionals using video conferencing. In this blog post we look at the latest features and compare them with other popular third party meeting providers available as alternatives to Skype for Business such as GoToMeeting, Cisco WebEx and Zoom.
Cisco WebEx has the advantage of producing video conferencing hardware as well as providing the software (WebEx) for an optimal video conferencing experience. Just like Microsoft, Cisco also provides a enterprise level unified communications product called Cisco Jabber that offers similar server level plans that can merge with WebEx. GoToMeeting has a very simple design and has a huge "business user" apeal for users who just want something that works. Citrix offers a large suite of online cloud based products but none that usually compete with Microsoft & Cisco's unified communications platforms. To mention a few: GoToMeeting, ShareFile, GoToWebinar, Podio, OpenVoice and Grasshopper. Lastly, Zoom is the most in-expensive compared to the others but provides some unique features such as iPhone/iPad screen sharing, H.323 room system compatibility and Zoom Rooms for instant meetings. While all three alternatives to Skype for Business provide widely different feature offerings, Skype remains the most widely pleasing option for both price and attendee flexibility. Most pricing plans are split in to 10, 25 and 100 attendee caps while Skype for Business allows up to 250 people in one business plan. For a more detailed feature list of all 4 providers click here (written before Skype for Business release).
The new Skype for Business pricing plan is as follows:
| | | | |
| --- | --- | --- | --- |
| Features | Online Plan 1 | Online Plan 2 | Server 2015 |
| Price | $2 user/month | $5.50 user/month | Find a partner |
| Presence & Group IM | ✓ | ✓ | ✓ |
| Transfer files in IM | ✓ | ✓ | ✓ |
| Audio & Video HD Calls | ✓ | ✓ | ✓ |
| Skype connectivity | ✓ | ✓ | ✓ |
| Group HD video calls | | ✓ | ✓ |
| Schedule meetings in Outlook | | ✓ | ✓ |
| Join meetings from desktop & web | | ✓ | ✓ |
| Join meetings anonymously | | ✓ | ✓ |
| Meeting controls for presenter | | ✓ | ✓ |
| Desktop, app & whiteboard sharing | | ✓ | ✓ |
| Remote control others' desktop | | ✓ | ✓ |
| Record audio & video | | ✓ | ✓ |
| Persistent chat | | | ✓ |
| Dial-in audio conferencing | | | ✓ |
| Interoperability with video teleconferencing systems | | | ✓ |
| Interoperability with 3rd party dial-in conferencing providers | | ✓ | |
| Enterprise voice functionality | | | ✓ |
Comparison with third party meeting providers (GoToMeeting, WebEx & Zoom)
Cisco WebEX
Cisco is a renowned company in networking and video conferencing products. WebEx is a sub-brand of the company which compliments its video conferencing offering with cloud based software for users that do not want to invest in hardware. A lot of companies utilize hardware base technology in their offices for overseas meetings but it does come at a hefty price. More or less it offers the same features available in Skype for Business but its pricing model is quite different. Enterprises with high demand on quality might may still require hardware based codec (Such as LifeSize, Polycom and Cisco) but as Microsoft is showing the push to secure cloud video conferencing shows no sign of slowing in demand. Even Polycom is starting to build Skype based video appliances such as the RoundTable Camera which is officially "Lync Optimized".
Cisco WebEx Pricing Plans

Premium 8

Premium 25

Premium 100

Up to 8 people

Up to 25 people

Up to 100 people

$24 per month

$49 per month

$89 per month

$19 per month annual plan

$39 per month annual plan

$69 per month annual plan
As you can see in the table above, WebEx is quite expensive compared to Skype for Business. The only major difference between both services is that WebEx is powered by Cisco and its reliable security. This does not mean that Skype for Business is vulnerable to threats, it is powered by its own very effective security mechanisms put in place by Microsoft. We expect Cisco's pricing model may change in response to Skype for Business and other low cost providers like Zoom.US. The price per host account was $50 for both GoToMeeting and WebEX licenses less than 1 year ago. The premium today is 5 times more than what Skype for Business charges per user and this may tip the scales even for business who do not use complimentary microsoft products like Office 365 or Lync.
GoToMeeting
GoToMeeting is another very popular alternative for Skype for Business and it still holds the #2 spot to Skype in the online meeting world. GoToMeeting has a nice UI design (it's new if you haven't used GoToMeeting in a while) and offers a good experience overall. Citrix, the parent company of GoToMeeting offers an array of products and upgrades such as GoToWebinar and ShareFile that enhnace productivity and functionaliy. My personal favorite is Podio which provides a "Basecamp" like collaboration area for teams to share ideas. Citrix is making a big push into the cloud although they do offer on-premise server installation solutions serving the small businesses and enterprise markets. Skype for Business requires you to find a partner for its on-premise server solutions and provides the option to choose from several reliable partners. Skype for Business Server 2015 partners include: AT&T, HP, Avanade, BT, Dell, Dimension Data, Modality Systems, Orange and Unify Square. Users can choose the best partners which suits their needs and gives a balance of price and performance. A full partner list can be found here.
GoToMeeting offers the following pricing plans:
GoToMeeting Pricing Plan

GoToMeeting PRO

GoToMeeting PLUS

Up to 25 people

Up to 100 people

$39 per organizer per month

$56 per organizer per month
Zoom US
Zoom US is the best alternative to Skype for Business and offers more features at a lower price point compared to WebEx and GoToMeeting. Zoom.US is the first company to provide a actual "Microsoft Lync Plug-In" which allows Skype for Business (Formerly known as Lync) to launch zoom video calls directly through the contact list. So it is conceivable that enterprise clients already using Microsoft Lync (now Skype for Business) would still purchase Zoom.US licneses for dedicated areas such as the conference room to provide additional functionality. One easy use case would be to add functionality of interoperability with legacy H.323 equipment. The basic services remain the same for all three alternatives but Zoom.US offers a little extra in my opinion when it comes to features (Full feature list here). The company also offers Video Webinars, join by Call Me, Toll-Free dialing and SIP room systems but all these features require an extra subscription. As a result, this increases the costs compared to Skype for Business but provides additional functionality. I don't think Zoom.US will budge on the pricing unless the oppurtunity is quite large. They seem to have the superior product for the 1-25 attendee host license market.
Zoom US Pricing Plans

Zoom US Pro

Zoom US Business

Up to 9 host accounts

10 or more host accounts

$9.99 per host per month (25 participants)

$14.99 per host per month (25 participants)

$49.99 per host per month (100 participants)

$54.99 per host per month (100 participants)
The only disadvantage of Skype for Business online plans is that it does not support VoIP calling and requires Server 2015 to avail this service. But with so many options available for Server 2015 which varies by costs and features, one can choose the best option for his/her business. The new pricing plan for Skype for Business will certainly effect third party meeting providers because Skype is an established brand name and is known to be reliable.
Supporting Skype for Business in the Conference Room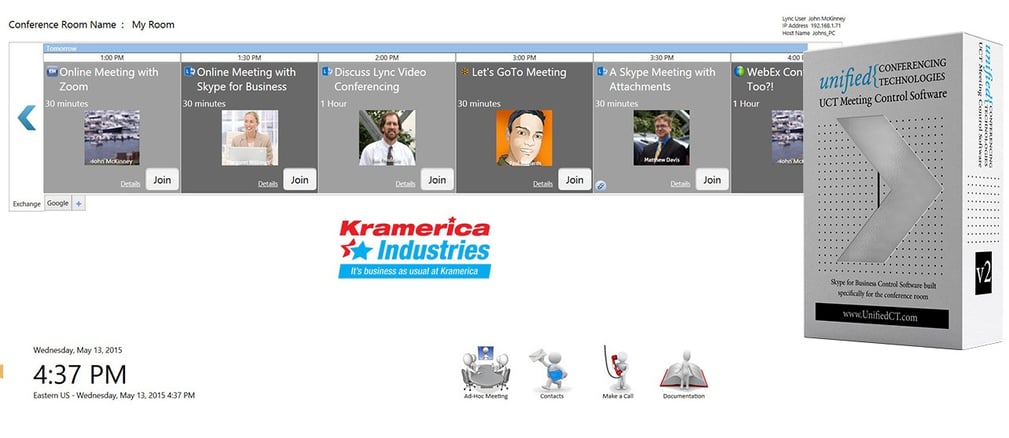 When it comes to the conference room itself sometimes deploying these cloud based technologies can be tricky and end user has to manage multiple applications along with the conference room calendar. UnifiedCT has developed a Meeting Room Control Software designed for both on-premise and office 365 deployments of Skype for Business (formerly Lync). This software was created to combine both the meeting room calendar (a microsoft exchange or google calendar) and the native Skype for Business controls a end user would want access to. The interface is similar to a "Lync Room System" now known as a "Skype Room System" but instead of supporting Skype for Business meetings only our software integrates GoToMeeting, WebEX and Zoom.US for organizations that require flexibility in their meeting spaces. When the software see a GoToMeeting invite on the conference room calendar it will automatically use the GoToMeeting API to launch the video call. Same for WebEX and Zoom.US. To see a full list of features click here.
If you are interested in trying out this software we offer free 30 day trials here. It must be installed on a Windows PC with Skype for Business (Microsoft Lync 2010 or 2013) installed and running.
More on Skype for Business Video Conferencing Tips