Hello ProAV & IT Professionals!
Many of us have started to migrate from USB 2.0 to USB 3.0 devices. Almost all new computers are coming with USB 3.0 support and it just makes sense to take advantage of the latest devices with 10 times the speeds of USB 2.0.
Using USB cameras, microphones and other devices is supposed to be plug and play. In general, more and more devices are coming with USB ports and it has made the compatibility and setup much easier. But did you know the maximum certified length for USB 2.0 is only 16 feet and for USB 3.0 it's only 9 feet! That means many devices such as cameras and speakerphones in particular will need USB extensions.
Our experience with USB 2.0 extensions has actually been quite good. USB 2.0 can be extended over Cat-5 and the products available from SIIG, ICRON and others work very well. Sadly, we cannot say that our experience with USB 3.0 extenders has been as good. We have had failed USB 3.0 extensions in many cases because of brittle fiber cables, faulty chip sets and simply failed units.
So to answer this blog posts question: What is the best USB 3.0 Extension?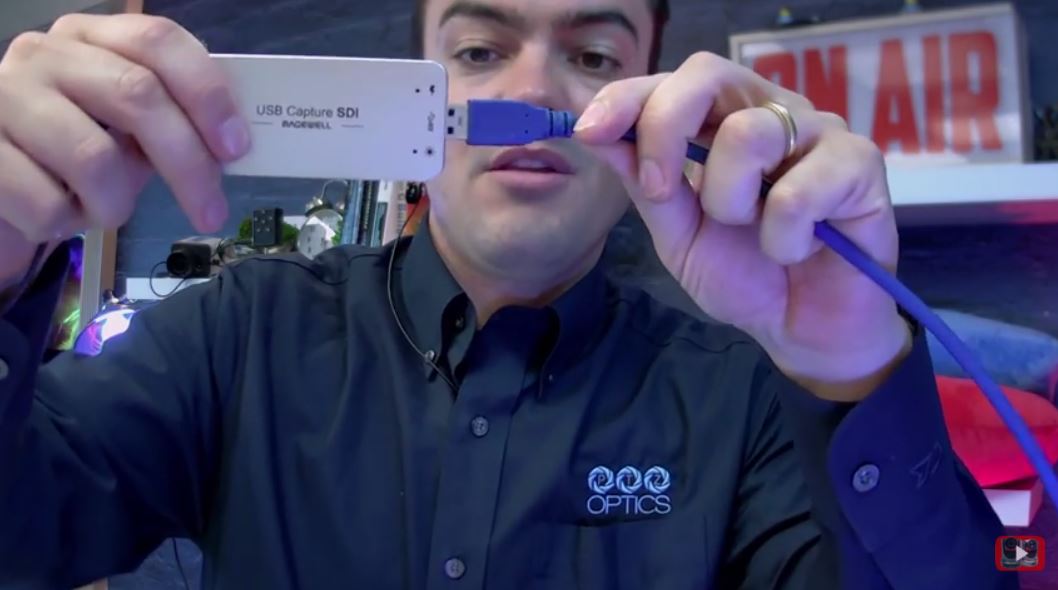 The answer may surprise you because when you are looking for the most reliable solution we may need to go back to our tried and true SDI (Serial Digital Interface) analog cabling. Many professional audio visual engineers are going back to traditional HD-SDI cabling and using a HD-SDI to USB frame grabber to convert the signal back to USB 3.0 at the computer.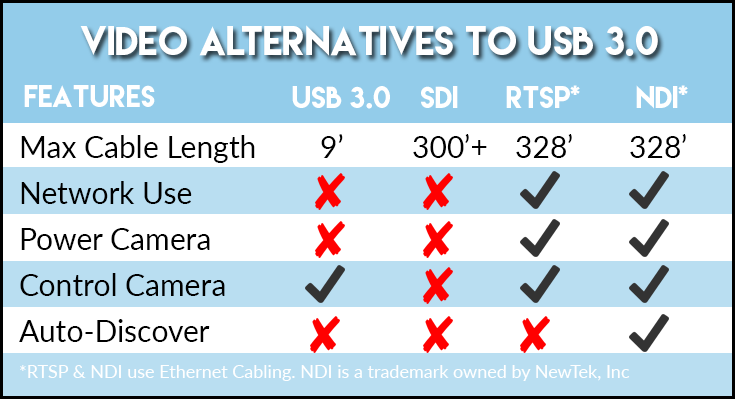 SDI cabling, also known as Co-Ax cabling has been used for well over 30 years and is extremely popular for it's durability. HD-SDI to USB 3.0 frame grabbers or "capture cards" are usually powered over the USB 3.0 connection they have to a PC or Mac computer. Capture Cards and Frame Grabbers are often used for live streaming and video production but are now being used to bring in HDMI and HD-SDI video content into web based video conferencing software or Mac/PC computers.
Alternatives to USB 3.0 Extensions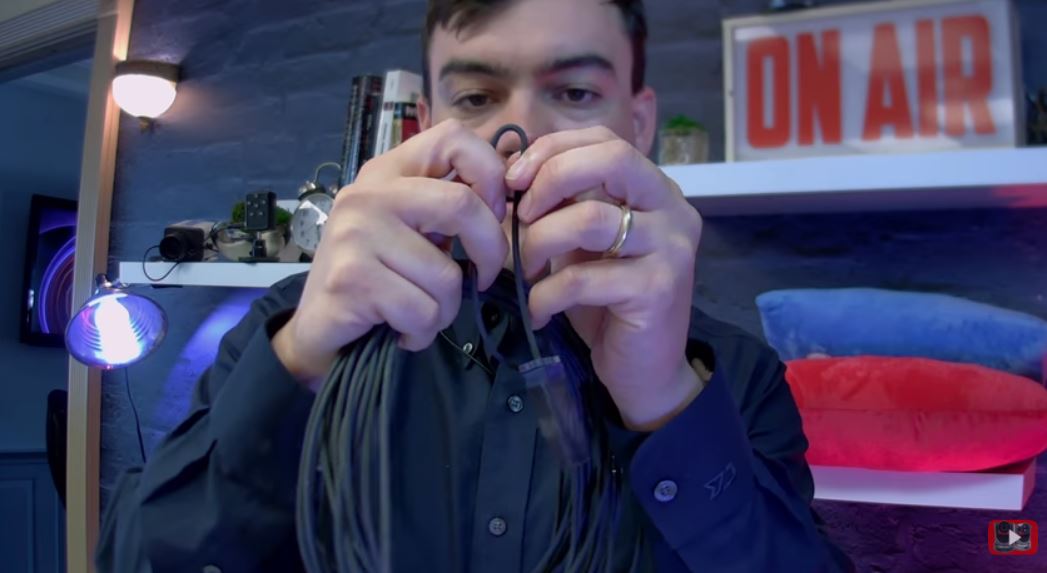 Other alternatives include well known Ethernet Category cables such as Cat-5 or Cat-6/7. These cables are now being used to transport low-latency, high-quality video and connect to software via a "Virtual Input". Unlike SDI cabling, Ethernet cables can be used to power devices such as PTZOptics cameras with PoE (Power Over Ethernet). Ethernet can also be used to control devices such as the PTZOptics cameras Pan, Tilt and Zoom controls.
In the USB 3.0 extension chart above, we mention two different ways to stream video using an Ethernet cable. We mention RTSP and NDI. RTSP stands for "Real Time Stream Protocol" which is built into many camera, again like the PTZOptics cameras. NDI stands for "Network Device Interface" which is a video over IP protocol from NewTek. In the video above, we discuss the differences between RTSP and NDI and their use for providing video to web conferencing software such as Skype, GoToMeeting or WebEX. One amazing feature for NDI is the ability to auto-detect NDI sources on your network allowing users to quickly switch between multiple cameras virtually while your web conferencing software remains locked on a virtual webcam.
Conclusion
As mentioned in the video too many USB 3.0 extension systems are failing! So ProAV integrators and audio visual technicians are going back to HD-SDI cabling which can be extended hundreds of feet. With a HD-SDI to USB framegrabber we can extend USB 3.0 video reliably and know that our system will work for years to come. Looking forward, just recently Video-Over-IP has started to become a big deal. Not only will it save us money, it will save us time. A single ethernet cable will provide power, camera control and video! So think about your options and know our team is here to consult about your next project!