1. Wireless Presentation
In a couple years we are going to hear laughter when people reach for cables to present. Or ask "Do you have a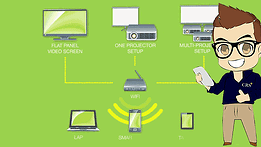 VGA or HDMI cable to plug in." Wireless presentation is here already! In the future, all you will need is a USB stick that launches a application in RAM Space to wirelessly present to the meeting room display... wait we already have that... Mersive Solstice, yeah. Anyway, from Crestron AirMedia to the Barco ClickShare there are so many BYOD wireless presentation solutions that work for more then "just Apple" or "just Google" devices.
2. The right size display
Not too big, not too small. Just the right LCD TV or projector display always sets the mood in 21st century meeting rooms. If it's too small or poor resolution most users will be turned off immediately. For more information about read our white paper for "LCD Size Guide".
3. Video Conferencing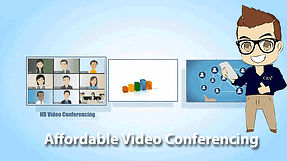 Web Video Conferencing. NOT traditional video conferencing. Let's be honest. Do you really think the 21st century conference room revolves around a expensive super secure proprietary piece of hardware? No. Web video conferencing software like BlueJeans, Google Hangount, GoToMeeting, Skype, WebEX and Zoom.US are going to rule this space. With one click launching of meetings. Single-Sign on web conferencing plans are super easy and flexible leveraging the cloud. Learn more on web conferencing at our friday webinars.
4. Modern Style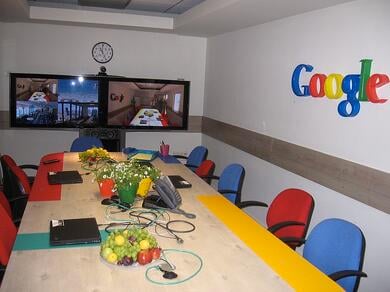 Take a look at this video conferencing room at Google. I would love to attend a meeting here. Look at those chairs. Does your conference room need a little bit of color? It's amazing what good furniture choices can do for a conference room. A collaboration table is a great choice for small spaces. For larger rooms lighting tends to be the biggest problem I see. Ceiling height glass windows and doors are becoming more popular and they let in lots of light. If your stuck with a room that has no windows, see what you can do to improve lighting and room accents.
5. Internet Everywhere!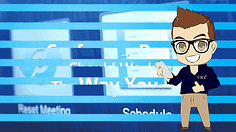 Whether we are talking about digital signage players that are network capable OR entire organizations using "softphones" to make calls, the internet is going to be part of every work process in our economy in some way, shape or form. So naturally, this trend is making it's way into the conference room. "Networked AV" is emerging yet still in in-fant stages of growth and at risk of being by-passed by more relevant technology. The most important innovations will be in control of the conference room display. IT managers will have the ability not only to display dynamic content as "digital signage" but also throttle bandwidth of users wirelessly presenting that conference room. Again this is already available through Mersive Solstice enterprise management software.
6. Fresh Ideas
Fresh ideas always power the conference room. But the 21st century conference rooms will power more than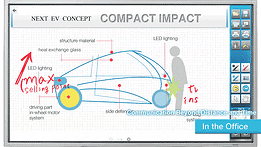 just innovation. The presentation tools available on the cloud are evolving at a amazing rate. Socially, millions of tweets, posts and emails are being sent everyday. But let's take a look at Presentation Tools used to deliver "fresh ideas." Prezi, is one of the coolest new presentation tools available. Taking your old power points and turning them into a 3D video tour users can control the speed of. Allowing users to "present to themselves". YouTube can't be skipped here but will mention in the next tip.
7. Webinars
Webinars, Web-Cast's, and live streaming. Are you having a event? Would you like to join our webinar? The ultimate in sales tools and effective presentations. Reach the world without leaving your office, right from your conference room! Learning to conduct effective webinars is a serious skill! Join our Web Video Conferencing Webinar to learn more about web conferencing software and best practices.
8. Interactive Technology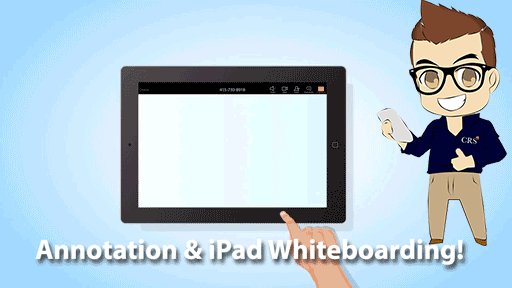 Touch Screen technology prices are dropping! As the trend continues it will be easier and easier to equip conference rooms with interactive touch screens or annotation. Digital Annotation is a powerful tools for so many reasons. The most important in my opinion is the fact that you never have to erase the notes you make in the conference room. Instead, simply hit the "next page button" on your SMART Board or touch screen and away you go. Email out the meeting notes with ease or enhance you latest webinar with annotation over your PowerPoint presentation.
9. Hard Work
Yes, that's right. Hard work made it on our list and it's the most important. I don't care how much technology you equip your workforce with... you know where I'm going with this.
Thank You!