Hello AV & IT Pros!
We hope this will be an interesting post for anyone who has wondered: Should I set up a video conference call or a webinar?
What events are best suited for a video conference, a webinar or just a plain old live stream?
Sometimes the video conferencing service your using can't host everyone your expecting... Sometimes you only want to broadcast a one-way live stream. With the rise of YouTube Live, will the world of video conferencing and live streaming find synergies?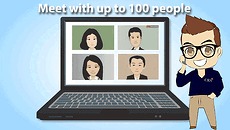 If your planning a big event you might ask yourself if your video conferencing service has enough space for everyone that your expecting. When you plan larger video conference calls, most services like GoToMeeting, WebEX and Zoom suggest webinar packages. These packages are great for adding more "view only" participants and they solve most meeting capacity limits up to 3,000 users.
But what if you want to do more of a live broadcast? You might not really need to set up a video conference at all! Maybe you can use a service like YouTube Live to stream to thousands of viewers around the world for free!
In this post we will discuss these options plus a way to combine them! That's right, tips for live broadcasting your video conference calls using YouTube Live :)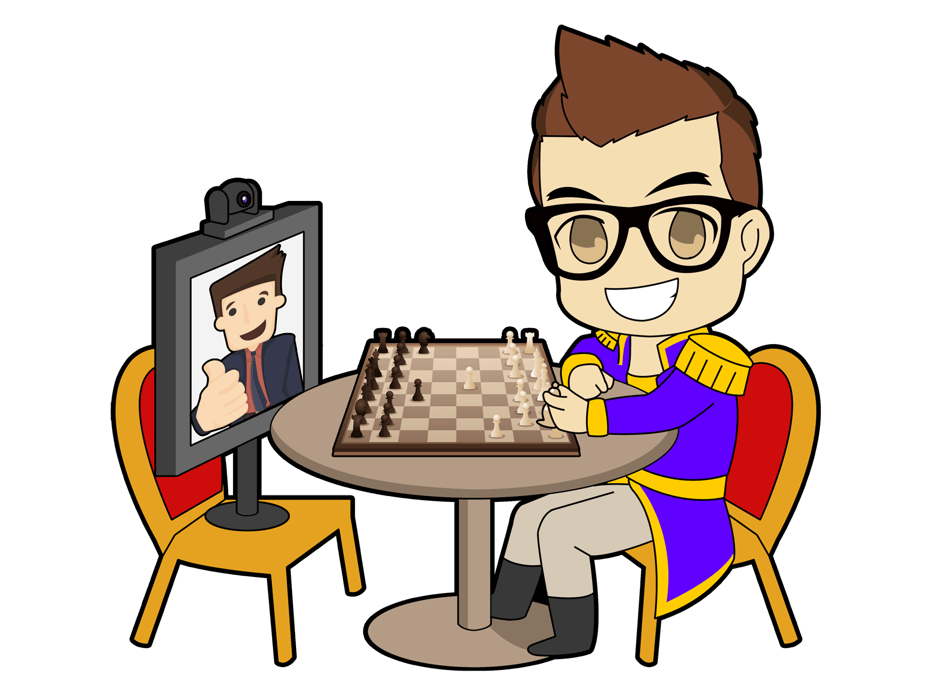 When to Video Conference:
If your used to video conferencing you will find any excuse to use it. Let's face it. Video conferencing is super easy these days! Once users start benefiting from the time savings, the cost savings and the superior communication it starts to make an impression. This is not just some "honeymoon" with a cool new piece technology either. Video conferencing usages "Grew by 100% in the past 2 years 2013-2015" (more in this Vytopia report). So using video conferencing is coming naturally to today's tech saavy workers.
If you are interested to learn more about when to meet "face to face" vs "online" check out this great article by Joe Mullich of the Wall Street Journal.
When to Schedule a Webinar:
Webinars are useful when you are expecting large crowds of attendee's. Webinars are going on everyday and they may or may not be your best bet. I have been surprised how many webinars that certainly could have been regular video conference calls. The benefit to a video conference call is that all users have access to live video and audio. I like this platform for small groups but eventually when groups get to a certain size webinars are easier and more efficient to manage.
We have created this chart to help determine the best meeting platform for an event: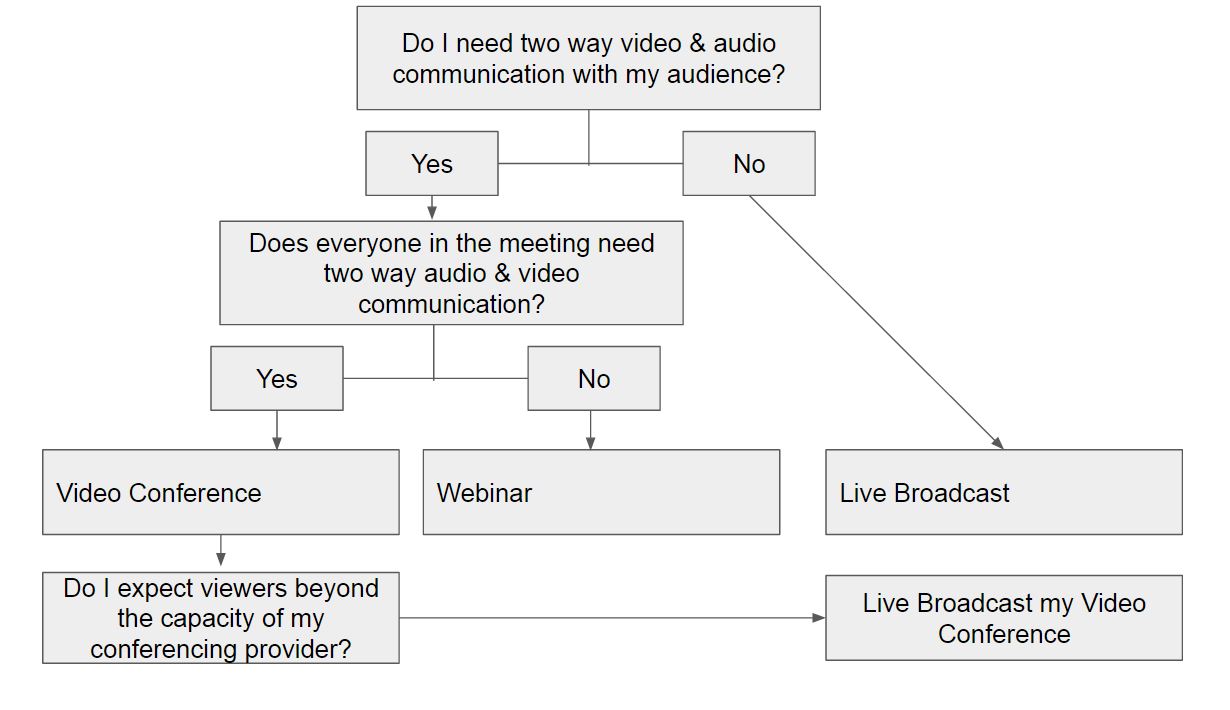 When to Schedule Live Broadcast:
There is a huge difference between a webinar and live broadcast. Live broadcasters are a "different breed" of online presenters who normally run their own show. The international association of internet broadcasters can give you a good idea of what this community looks like. The biggest difference in my mind is the user experience. Webinars are "private groups" in comparison to live broadcasts. Webinars offer tools like live chat, screen sharing and the ability to promote a attendee to a presenter with full audio and video. While live broadcast have tools for live chat, twitter integration and even include the popular "call from the audience" it's a much different experience.
YouTube has now entering the "live streaming" space. Somehow Google is providing live streaming services to the world for free which is great for everybody! It has neve been this easy to get involved with live broadcasting. Live broadcasts are ideal for events such as school graduations, live performances and debates that do not require two way communication from the audience.
How to Live Stream a Video Conference:
So what if you want a little bit of both? You may want host a interactive video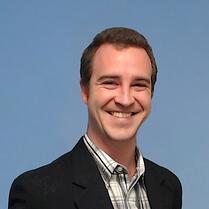 conference but also live stream it for the world to see? Well at HuddleCamHD they are planning to fulfill that use case by combining Zoom video conferencing with YouTube Live. HuddleCamHD is calling the show HuddleCam Live which is replacing their weekly webinars. Patrick Kirby of HuddleCamHD explains "It's not because our video conference calls were filling up beyond capacity..I wish... but it was because we wanted to use YouTube Live's amazing tools for embedding the live stream in our website." Kirby explains "We also wanted to take advantage of YouTube's video distribution network which turns live streams into re watchable videos after the live stream is complete."
Here is an example of how to set up a live streaming video conference event: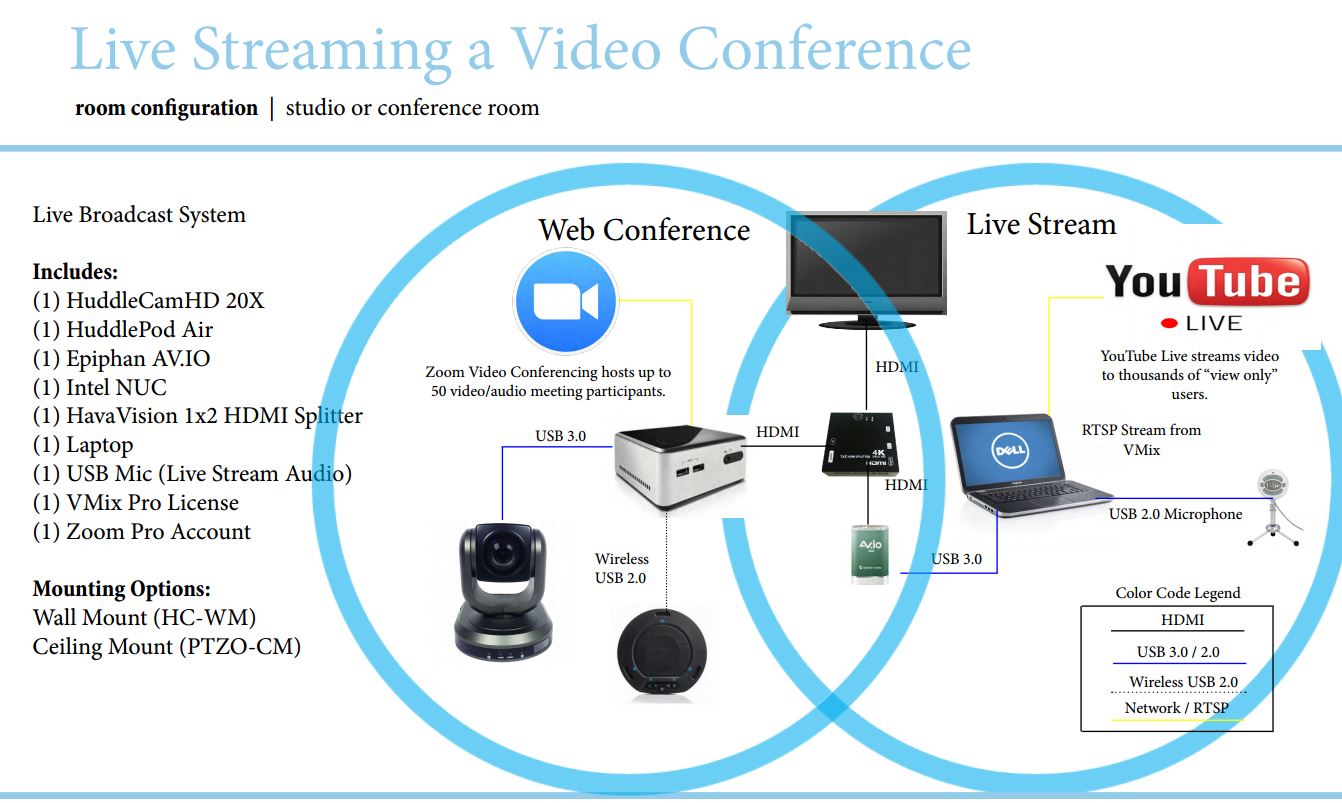 So as you can see the video conference set up is something you are probably familiar with. A computer connected to a USB camera and USB speakerphone. In this sense we are still running a video conference call like you would with any service. But "downstream" we are taking the output of that computer and converting to a USB stream and sending that RTSP stream to YouTube Live. Tah-Dah!
The best part is that we only spent about $400 (assuming you already have a computer and a video conferencing system). We spent $350 on a Epiphan AV.IO and $75 on a HavaVision 1x2 HDMI splitter. If you are interested seeing this system in action tune in any Friday for the our HuddleCam Live Friday Webinars at 10AM PST | 1PM EST. If you want to see a step by step set up guide check out the HuddleCamHD blog at http://huddlecamhd.com/blog
More on Live Streaming