Wireless USB 2.0 Video Extension Systems
Wireless USB video extensions are coming sooner than you think and it's time to start getting excited about it! HuddleCamHD has just released their very first teaser video for the USB2Air which looks like a problem solver for the modern day web video conferencing user! The USB2Air will be HuddleCamHD's latest product built for wireless 1080p video transmission over USB 2.0! HuddleCamHD has also released the following timeline for production on the new wireless USB transmission system below: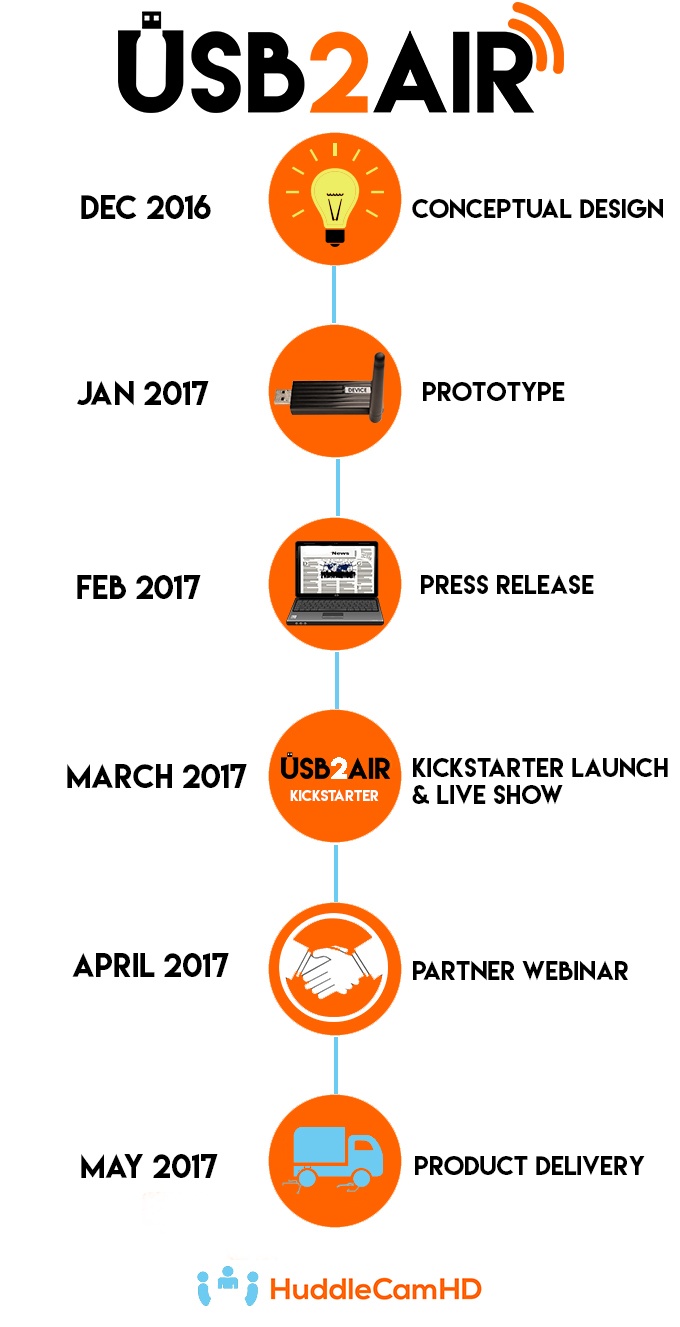 This wireless USB 2.0 extension system includes a transmitter and receiver for connecting webcams, microscopes, virtual reality headsets and much more. As you can see HuddleCamHD is just now starting to release information about the wireless USB 2.0 extension system which in February of 2017. The timeline shows that a Kickstarter will launched in March and the product itself will be shipping in May of 2017!
Why Wireless USB Extensions are important
Here at Conference Room Systems we are always getting requests for wireless USB cameras, speakerphones and more just because running USB extension cables are expensive and time consuming. It looks like the new USB2Air wireless USB extension adpaters from HuddleCamHD will eliminate the need for running USB cables for devices such as Speakerphones, Webcams and other devices such as printers and microscopes. While HuddleCamHD has actually had wireless USB cameras and speakerphones for quite some time this is the first time we will be able to use the HuddleCamHD wireless USB 2.0 video transmissions technology outside of an integrated product. This will be very exciting and I look forward to the release!