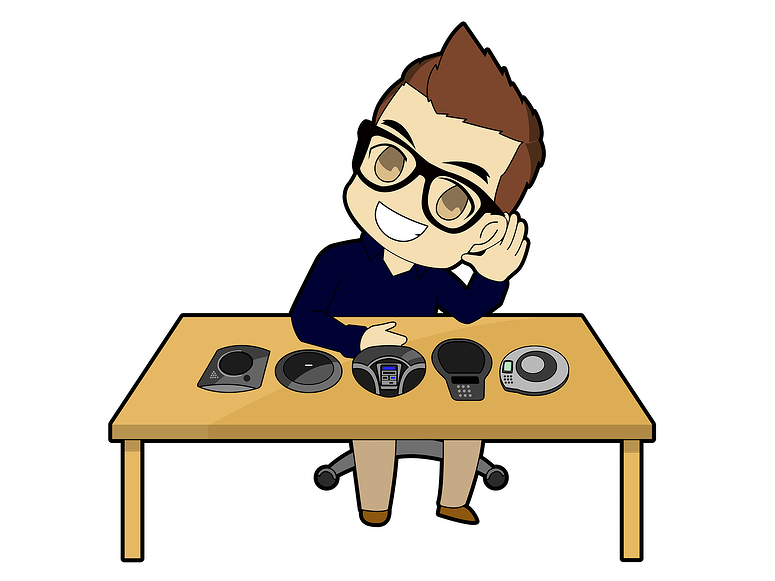 Finding a good wireless USB microphone is easy and we put together this helpful blog post to review the different technologies. If you are setting up a web video conferencing system that requires either a USB or bluetooth connection to your computer than you have 3 options: hardwire USB, use Bluetooth or 2.4 GHz speakerphone. Below you will find a quick wireless USB speakerphone technology overview along with some test recordings recorded with Windows Media Recorder.
USB 2.0 hardwired connection (Example below: Phoenix Audio Quattro)

This connection is always the highest quality
It also poses the problem of cabling
USB provides power so most likely your microphone will not require additional power.
USB 2.0 is easy to extend

Bluetooth (Example below: Jabra Speak 510 )

Requires pairing of bluetooth connection to computer which can be difficult
Bluetooth pairing can be broken with a simple restart of your computer
Easiest technology to pair with a Smart Phone
Lowest quality audio
Usually the least expensive option
Lower power consumption provides wireless connectivity even with battery operated devices
Potential wireless frequency interference with microwaves

2.4 GHz (Example below: HuddlePod Air)

Usually includes a wireless USB dongle with no need for bluetooth pairing.
Noticeably better quality than bluetooth
Easiest technology to pair with a Mac, PC or Android computer
Unrecognizable wireless frequency
Also a affordable technology
Example 1: Hardwired USB 2.0 Speakerphone
Always the best quality, a hard wired USB 2.0 connection is ideal for the highest quality experience. Knowing this is not always possible or required we will dig into wireless technologies for audio conferencing below.

Example 2: Bluetooth Speakerphone
Bluetooth is by far the most popular wireless speakerphone technology because of cost. The quality if fair but as you will see here it is pale in comparison to a hardwired USB connection. Later we will take a look at this same microphone hard wired vs bluetooth.

Example 3: 2.4GHz wireless speakerphone
Now try listening the HuddlePod Air which uses a technology we consider superior to Bluetooth (2.4 GHz). This microphone is recorded "wirelessly" but it still maintains a high quality audio recording.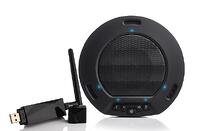 In an effort to perform a base line wireless microphone test we recorded the popular Jabra Speak 510 using bluetooth and a direct USB connection. Listen below and you might be surprised by what you here.


Because audio quality is such a crucial element for any online meeting we have compiled this complete USB and Bluetooth microphone test recordings to compare and contrast audio quality. Listen for audio quality with these microphones commonly used for web video conferencing and online meetings such as MS Lync, Cisco Jabber and Skype.
But don't take our word for it! Listen to the recording for yourself!
Including:
ClearONE Chat-150
Logitech CC3000e
HuddlePod Auctopus
Dell Latitude Buil-in Mic
Jabra Speak 510 (Both Bluetooth and USB)
Konftel 55W
Phoenix Audio Quattro 3
Phoenix Audio SPIDER
YAMAHA PJP-50USB