From the early telephonoscope concept in 1879, which transmitted "light," or images, accompanied by sound, to Germany's first commercially available "videotelephony" in the late 1930s, people recognized the value in accompanying audio with images or video.
By the 1970's, AT&T's Picturephone technology had pushed the market as far as it could go, evolving from a series of static images generated every few seconds to a "smooth" video stream. Yet further progress seemed stalled as a result of the pipelines—preexisting telephone lines, which could only carry limited amounts of data.
Not only was it limited, but the extreme costs of owning and maintaining such equipment were ghastly, particularly to the budget conscious businesses of the time. As a result, the technology would remain out of reach for most businesses over the next few years.
That was all about to change in the mid 1990's when advanced video / audio codecs and high bandwidth internet arrived on the scene.
An explosion of innovation once again came to the video conferencing market, with original attempts at both PC-based conferencing systems and purpose-built conferencing equipment, that could take advantage of the new pipelines. Things were evolving at a rapid pace and in many directions.
Unfortunately this explosion of innovation also led to an abundance of proprietary "standards" and a lack of consensus on how best to accomplish video conferencing. The result was a lack of interoperability between different manufacturers' systems, and sometimes even within the same manufacturer's line.
Over time two main manufacturers emerged as the video conferencing leaders, Polycom and Tandberg. Eventually both were able to achieve some level of interoperability between the systems, allowing basic video and voice conference calls. Yet the special features—the bells and whistles each manufacturer offered—often were not compatible, leading a lot of frustration with some very expensive systems.
It's an understatement to say the systems were not user friendly: they were tricky to operate and certainly beyond the average person's ability to install. This created the need to hire special installation teams to make your expensive system operate properly, which in turn spurred a divide between those who were able to afford the technology and those that could not.
In 1997 Starlight Networks introduced one of the first web conferencing software packages for your PC, yet the technology remained mostly limited to special cases in large corporations. In the background, a consumer-based technology known as Skype came onto the scene in early 2003. Skype allowed users to leverage their existing PC technology and use basic PC microphones and webcams to conduct video calls with anyone else using Skype. Little did they know they were ushering in a new generation of audio and video conferencing that would forever change the professional conferencing market.
By 2009, a slew of high quality, but still mostly consumer-based, USB-based conferencing equipment such as Microsoft 720P webcams and ClearOne speakerphones began to present themselves to the marketplace. With the first generation of equipment available, the path to a simple and affordable conferencing system was underway.
Like any new systems, these first generation models had some issues: from cameras that couldn't focus properly beyond a 3' distance or weren't really meant for large groups, to limited speakerphone options which narrowed how large of a table the system could accommodate. Yet the technology forged ahead, as it always does, and in 2012 VDO360 launched one of the first high quality, USB-based, pan, tilt, and zoom cameras. The USB speakerphones also continued to move forward, offering larger coverage areas, the ability to daisy chain multiple units, and eventually wireless capabilities.
We have now reached a point where the PC-based conferencing technology is capable of being deployed in most scenarios where previously expensive purpose-built hardware was necessary. Now that affordable, user-friendly technology has almost caught up to the professional, purpose-built hardware market, we have to ask ourselves: what's next?
We are lucky enough to interact with hundreds of customers each day, and really discuss what they would like to deploy. Among those interested in USB conferencing systems, the biggest request is for…
WIRELESS!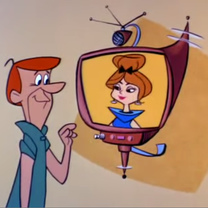 I mean the Jetsons had it why can't we?
We believe the next leap for the PC-based conferencing market will be creating more wireless devices that have better functionality, from synchronization to sound quality.
Imagine a video conferencing system that's quick and easy to install, that can be installed almost anywhere, and can be used with your own laptop—not the communal computer that lives in the conference room (wouldn't it be nice to finally get rid of that thing?) A wireless camera could achieve all these goals, in addition to being cheaper to install and maintain. As smart phone technology continues to move forward we may reach the day where you don't even need your laptop but will be able to use your phone to handle incoming and outgoing video display. Unfortunately we are not there quite yet.
Another area there is room for improvement in is the wireless speakerphone market. Currently, there is a wide array of top quality USB hardwired speakerphone solutions, such as Phoenix Audio, yet currently wireless options remain scarce and lacking in tonal quality.
Within the wireless speakerphone market you typically find Bluetooth options, yet the inherent loss of the upper and lower tonal range (due to the compression used Bluetooth) keeps developers searching for a more immersive solution.
It may finally be time for the wireless speakerphone market to look at using some of the new emerging wireless standards options on the market.
Imagine with me once more:
Imagine being able to set up your speakerphone on your conference table, plug in the power cord, and wirelessly link it to multiple units (in a "wireless daisy chain," if you will)— then make a final wireless connection to your PC. This would enable you to set up a conference room in almost no time, or as little as 20 minutes when paired with a wireless camera.
In the distant future, we see wireless "security cameras" taking advantage of the new 802.11ad and ac standards, in addition to the new H.265 codec, eventually replacing traditional conference cameras by using the "cloud" as their conferencing platform. Here, cameras and possibly speakerphones could interact via IP communication tied to a main hub.
Clearly many uncertainties persist. Yet one thing is certain. With these technological capabilities, the industry will be evolving quicker than ever. We're armed with a thorough knowledge of the past, and two feet planted firmly in the future. We can't wait to see what's next.