Hello AV & Broadcast Professionals!
It's time for a quality side by side review of Facebook and YouTube Live. Here at CRS we broadcast to Facebook and YouTube respectively every week on Wednesdays and Fridays. Our experience live streaming has been nothing but positive yet the platforms are quite different. In this blog post, I hope to share the key differences in each platform and encourage our audience to use both services effectively.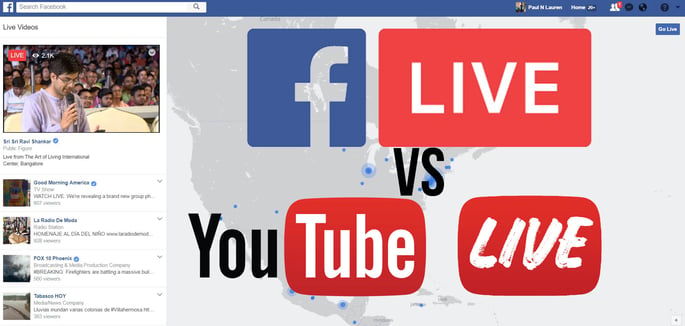 General Platform Statistics
| | | |
| --- | --- | --- |
| | Facebook Live | YouTube Live |
| Active Users | 1.9 Billion Active Monthly Users | 1.3 Billion Active Monthly Users |
| Average Time Spent/User | 20 Minutes | 25 Minutes |
We are talking about two of the largest social media networks in the world. So it's safe to say that it would unwise to disregard the opportunity of reaching an audience on Facebook or YouTube with their live streaming offerings. Right now video content is being optimized for distribution in a big way. Live video on both platforms is distributed even more favorably with special notifications and social media triggers than ever before.
The biggest difference between the two platforms is the lifespan of your video content. Facebook operates like true social media where the latest content is available at the top of users news feeds and older content is lost into a digital abyss. YouTube works more like an automated video archive where the videos with most view time and relevance are recommended to reviews in a search engine style. Therefore you will find Facebook will usually return more short term exposure while YouTube will provide long lasting results. (More on where your time & money is best spent in this video).
Live Streaming Platform Tech Specs
| | | |
| --- | --- | --- |
| | Facebook Live | YouTube Live |
| Resolutions Supported | 720p | 4K/60fps, 4K/30fps, 1080p60fps, 1080p30fps |
| Maximum Length | 240 Minutes | 36 Hours (continuos stream available) |
| Static Stream Key | No | Yes |
| Scheduled Events | Yes | Yes |
| Embed Live Event | Yes | Yes |
| User Notifications | Yes, (Multiple) | Yes, (Single Email to subscribers) |
| Quality | Good | Best |
| API | Yes, (See Notes Below) | Yes, (See Notes Below) |
| Live Stream Map | Yes | No |
| Live Stream Channel | No | Yes |
| Mobile Streaming | Yes | Yes |
| Desktop Streaming App | Yes | No |
| DVR | No | Yes |
| Video Editor | No | Yes |
There is no doubt that YouTube is a clear winner here when it comes to professionals features. Personally, I stopped live streaming in 720p years ago when regular i7 computers were capable of streaming content in 1080p. I always suggest that users should stream in the resolution they would normal upload a video in for views on-demand. This is ideal because most views will still happen after a live event. Streaming in 1080p or 4K is ideal when bandwidth is available and it's encouraged by the YouTube algorithm (more on that in this video).
So YouTube is the clear winner on Professional features (and I didn't even dig into the video editor) but Facebook has some advantages of their own that should not be ignored. Facebook does a better job notifying followers of a schedule live stream. YouTube will send out an email as soon as your stream goes live but Facebook will send out multiple notifications such as going live in 1 hour, going live in 20 minutes, going live in 1 minute. Facebook has also innovated in user engagement with their Facebook Reactions feature which is built into the API we will cover in the next section. I'm also a huge fan of the Facebook Live Map, which allows users to find live streams on a map of the world.
Live Streaming API
| | | |
| --- | --- | --- |
| | Facebook Live | YouTube Live |
| Create/Schedule/Post | Yes | Yes |
| Channel Information | Yes, Likes | Yes, Subscribers, Views, Video COunt |
| Live Comments | Yes, Profile Image, Message, ect | Yes, Profile Image, Message, ect |
| Audience Segmentation | Yes | No |
| Monetization | No | Yes, Sponsors and Super Chats |
| Engagement Strategy | Facebook Reactions | SuperChat |
Finally, let's take a look at the live streaming API's available from YouTube and Facebook. Application program interface (API) is a set of tools developers can you to build plugins and integrations with 3rd party applications. For platforms like Facebook and YouTube Live, each API function can be used to great effect in popular streaming software such as vMix, Wirecast, Livestream, OBS, xSplit and the popular TriCasters. For example, the Create, Schedule and Post APIs can make it easier for professional broadcasters to start live video streams inside a software like Wirecast without ever leaving the platform. Wirecast has done an amazing job keeping up with the latest Facebook API functionality allows users to include video descriptions, choose from various pages and include location tags required for the Facebook Map feature.
Here at CRS we are working on a Wordpress plugin to manage both YouTube and Facebook's live API features to combine both into one easy to use dashboard. In general, YouTube is giving creators better tools for monetization and Facebook is giving users better tools for audience engagement. We mentioned Facebook Reactions in the video above. Facebook also offers audience segmentation features which is key in their advertising platform as well.
Conclusion:

Live video has the opportunity to connect audiences in a real authenticate way that the large social media networks are pushing to the forefront of their platforms. The largest social media networks in the world are offering new tools for businesses to communicate and build audiences. I believe we are in the early days of live video streaming. Create a video content creation strategy has never been more important for marketing departments. Understanding how to produce amazing content live may be easier than many professionals think. I have creating over 15 free live streaming courses you can get started on here: http://ptzoptics.com/landing/coupons.html
More on Live Streaming
Article Sources: