We have moved over to the dark side of video communications… Live Streaming. In some ways, I miss the lightside. GoToWebinar, Cisco Event Center and Zoom Webinar were comfortable. They weren't too expensive and I enjoyed the easy to manage platforms that just felt good.
About one year ago, (March 2016) I wrote an article called "A Simple hack to boost Webinar attendance" which outlined our early results from the switch to live streaming. So much has changed in the last few months. The upside of live streaming today is so incredible USA Today reporter Steve Strauss says "Live streaming is to small business today what video was a few years ago: Important to know, but even more important to jump on".
I wanted to take this chance to note 10 reasons why you should reconsider hosting webinars on a "closed platform" and look at live streaming:
Maximum Exposure - The main reason why people use webinar services over live streaming is because the information that they are going over needs to kept private. If your organization is looking to maximize exposure for a public event, you are most likely already using the major social media platforms for promotion. Live streaming to these platforms will only boost your exposure and excitement around the event.
Social Media Impact - Almost every major social media platform supports live streaming. Our latest tests show live streaming video is also being promoted above and beyond than other types of media including recorded video and static image posts.
Innovation - It's not just a fad. Live streaming is one of the most effective forms of marketing and communication businesses can use today. Every month the major streaming platforms are adding new game changing features. and users alike are excited to see what's coming.
Engaging audiences - There is a big difference between a live audience and captive webinar attendees. In a live audience, on a social media platform like YouTube or Facebook, we have found users are more likely to share and invite friends through the built-in social networking tools they are familiar with.
Video Marketing - One of the unknown benefits to live streaming on YouTube and other platforms are the SEO benefits. Every live viewer on your stream equals a video view once the video is published. Even more important is every minute watched adding to the overall watch time for your recorded video. Audience retention and watch time is now one of the most important YouTube algorithm analytics in video ranking.
The excitement - Sure your audience is going to point out a mistake that you make when you're live. But that's why it's so exciting! Use the fact that anything can happen to your advantage! Marketing Pros harness this excitement and use it towards exciting press releases product announcements and much more.
It's free - Live streaming is now free for anyone who wants to use it. While webinar services offer premium features such as exclusivity to your invitation list, live streaming offers endless possibilities for public-facing events.
Remove the Barriers - Downloading an application is a barrier users face when they decide to attend your webinar with GoToWebinar or WebEX. Hosting your webinar on YouTube reduces that barrier by 100%. Facebook requires a login but with 1.4 billion users on the platform it's certainly a platform most people are familiar with.
Production Value - Done right, your live streams become your best on-demand video content. Your live audience forms a new relationship with the content they watch live. Try integrating your live stream with user comments and questions from the chat room.
Driving Action - Webinars are never as good as a one-on-one strategy meetings. Encourage your audience to schedule follow-up meetings after you have successfully built up excitement around your call to action.
UPDATE: Congradulations Zoom Video Communications!
I was just informed that Zoom Video Communications has added Facebook Live integration to there Webinar platform. It's so new that you won't find any information about it on their website... But due to popular demand... Zoom is a company that listens to their customers. Sure, this will reduce the need for larger (more expensive) webinar packages... But it shows the company is unafraid to face changes in the fast paced video communications industry. Great work Eric Yuan and the Zoom famliy!
Conclusion: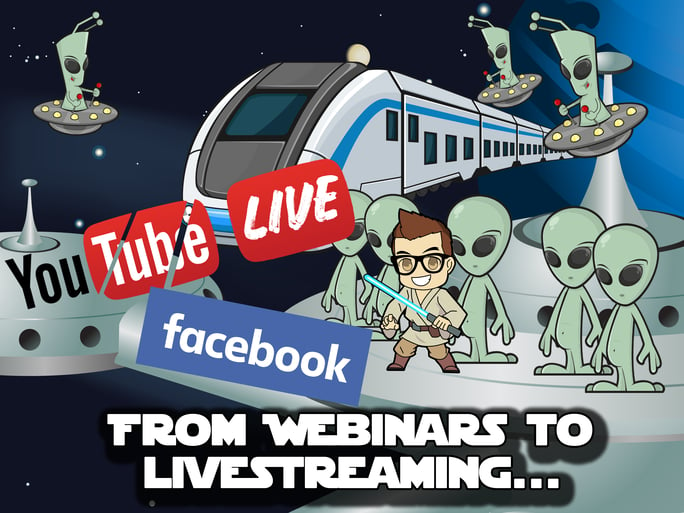 Making it easier for our audience to join and participate has been the key to our success live streaming. We have seen 10X growth in audience size since we switched from a webinar service to live streaming on YouTube and Facebook. We still use video conferencing software to bring in live guests from around the world. We even invite the audience to join via video which adds to the excite but it's not for everyone. We have found most people prefer watching the presentation and joining in the community chat room without having to download any extra software. Reducing the "on camera" pressure and encouraging a community chat room has lead to great conversations and user experiences along the way.
Take our Video Productions Courses for Free!
I teach over 4,000 students who live stream stream on UDEMY! I would love to give you the free coupon codes to take one of my 14 courses on video production and live streaming. Feel free to download the free coupon codes here: http://ptzoptics.com/landing/coupons.html
You can download the entire guide here: http://ptzoptics.com/landing/ultimate-streaming-guide.html . As always, subscribe to our YouTube Channel to stay tuned on our last live shows, industry expert interviews and giveaways every week!
More on Live Streaming
Source: USA Today - http://www.usatoday.com/story/money/columnist/strauss/2017/01/13/top-small-business-trends-connecting-key-more-than-ever/96540418/